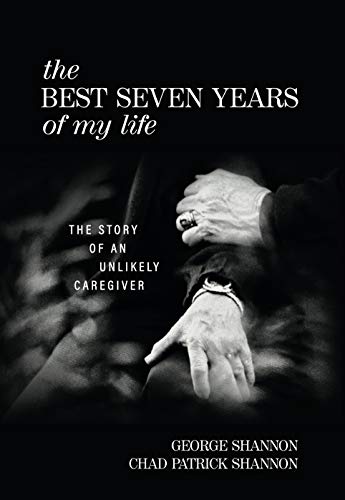 When I began reading The Best Seven Years of My Life: The Story of an Unlikely Caregiver, co-written by George Shannon and his son Chad Patrick Shannon, it was with a sense of scepticism. It is the story of a couple from Sewickley, PA nearing retirement age whose lives are cruelly disrupted when the wife suffers several devastating strokes. Told from the viewpoint of Carol's husband George, the story presents a brutally honest account of the effects of catastrophic illness on the lives of this couple.
I wondered how could this be considered the best part of anyone's life. But as I proceeded, my initial impression began to change. I had expected sadness, anger, even self pity, but what I did not expect was humor, optimism and joy. George reveals how taking on the role of caregiver led him to rediscover a sense of humility and transformed their marriage into a relationship based on unconditional love. George found himself discovering things about his wife that he hadn't known or to which he had not paid attention, such as her wit and wicked sense of humor, her love of life and her determination to live life to its fullest despite numerous obstacles.
The next seven years would bring additional medical trials, some seemingly insurmountable, but George and Carol were able to face them together with courage and dignity. As a result, their lives became richer and their love deeper. Far from being a story of a man doing his duty, it is an inspiring account of this couple's rediscovered love and acceptance of those things that could not be changed.
The Best Seven Years of My Life will become more relevant to an increasingly aging population of readers. More of us will face something that many of us look upon with sadness and dread. It is comforting to realize that that need not be the whole picture.
By Carol Pollard