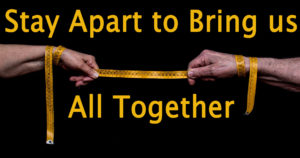 With the Coronavirus raging, we're hearing a lot about "community spread" and how it passes along the virus. At Popular Pittsburgh, we know that we're all in this together, and our greatest tool for beating this disease is practicing community support, helping those that we can in our community. Our web provider
Chroma Marketing Essentials
developed this useful resource to help their clients and the community, and we thought it was so helpful, we asked if we could share it with you, our readers.
The Chroma Team
Over the last few days, we've received a number of emails and notices from business contacts, the Chambers of Commerce, and other wonderful people. But we've found during our conversations with some clients that they don't necessarily have access to those same resources. Many of these options are available to sole-proprietors and self-employed people that are often left out. If you aren't up on these things, check out the links below.
A Few Resources That Might Help
Consultations on How to Work From Home
We are also offering
free consultations
for our customers who are looking for immediate cloud solutions to help them run their businesses remotely. We have a number of vetted tools and solutions that can be easily implemented and we are happy to help assist in getting you started.
Thank you very much for your business!
We believe that together we will all get through this very difficult time.
Here's a video of a pulmonologist, Dr. David Price, of Weill Cornell Medical Center in NYC. Last week he recorded a Zoom call for his friends and family. It's highly informative – from a doctor right in the middle of everything. Big takeaway – DON'T TOUCH YOUR FACE.
Please take some time to listen – it's well worth your time.
Search

Widget not in any sidebars