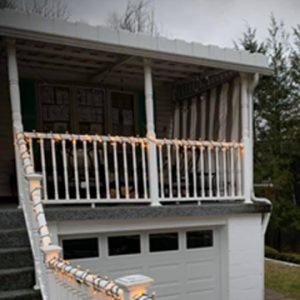 The truth is, none of us really know how this is all going to end. We're currently in the middle of the chaos. Work is being cancelled, schools have been moved to home school and online learning, and the news doesn't offer much consolation. Fear and uncertainty are floating through the air. However, people across the nation are coming together to spread joy and help each other out in these hard times.
Two days ago, I posted on my Facebook page about how I wanted to hang up Christmas lights as a way to bring joy the neighborhood and show that we're in this together. I figured that while we're all hanging out in our homes, we may as well have something pretty to look at. Yesterday, my husband hung the lights, and I posted the picture to my neighborhood Facebook page and my personal page.
Before I knew it, the local post had people saying they would also hang lights. Then, a friend of mine started a Facebook group called, "Christmas Lights in March" and overnight our group had nearly 300 members. People from all the country have said that they'll be hanging Christmas lights as a sign of hope and solidarity in these uncertain times.
We're all desperate for good news and answers. We all want our loved ones to remain safe. We can help keep everyone safe by staying home. But that doesn't mean we're alone. Together, we can show solidarity through the hanging of our Christmas lights, and through messages of love and hope. Stay safe. Stay healthy.
Written by Bianca Labrador
Search

Widget not in any sidebars