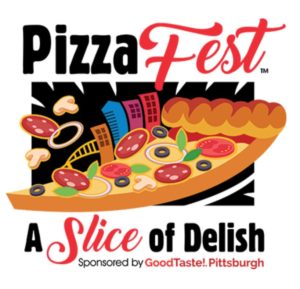 It's time to get a little cheesy- and grab a slice of Pittsburgh's best pizza pies! On Sunday June 23rd from 6-9 PM, GoodTaste! Pittsburgh is presenting PizzaFest- A Slice of Delish! at the Pennsylvania Market in the Strip District.
This event is sure to have mouths watering as 7 local, artisan chefs are sharing their delicious creations straight from the oven. Guests will also compete in fun pizza trivia, watch food demonstrations, listen to live music, and have the opportunity to purchase pizza supplies and creative merchandise from a variety of vendors!
"Whether you're a connoisseur or just love a great pie, you'll love PizzaFest," says Dee Weinberg, PizzaFest producer. "We're mixing up the city's most talented pizza chefs with lots of music, demos and fun.  Any way you slice it, PizzaFest is going to be a deliciously good time!"
Regarding the artisans sharing their delicious creations, guests can expect to see:
Anthony Ambliotis of Mediterra Bakehouse who will create Alla Palla, or Roman oval flatbread pizza made with a wooden paddle.
Dave Anoia of Pizzaria Davide will serve up traditional New York style slices for those who are a fan of folding their pizza!
Chris Bartko, from Gabagool Pizzeria, who will enlighten pizza fans with brick oven pies that are to die for!
Driftwood Oven's Neil Blazin will create a sourdough masterpiece pizza with locally sourced ingredients.
Kevin Konn and Justin Balla of Romulus Pizza Taglio will be serving up flavorful Roman pizzas with a delectably wonderful crispy crust.
Mercurio's Pizza and Gelato will have Michael Mercurio prepare Neapolitan classics with fresh tomatoes.
Pete Tolman, from Iron Born Pizza, who will whip up Detroit-style pies with extra thick and crispy crusts.
Tickets for this event are available at https://www.eventbrite.com/e/pizzafest-a-slice-of-delish-tickets-60377691300.  They are $25 online or $35 at the door. This is a 21+ event only.
Grab your tickets for this event today and get ready to fill your heart and stomach with delicious, local pizza!