Pittsburgh is known as a health care hub with numerous first-class medical facilities. Many of them have a long history in our region. Popular Pittsburgh has looked back in time to find the roots of some of our finest hospitals.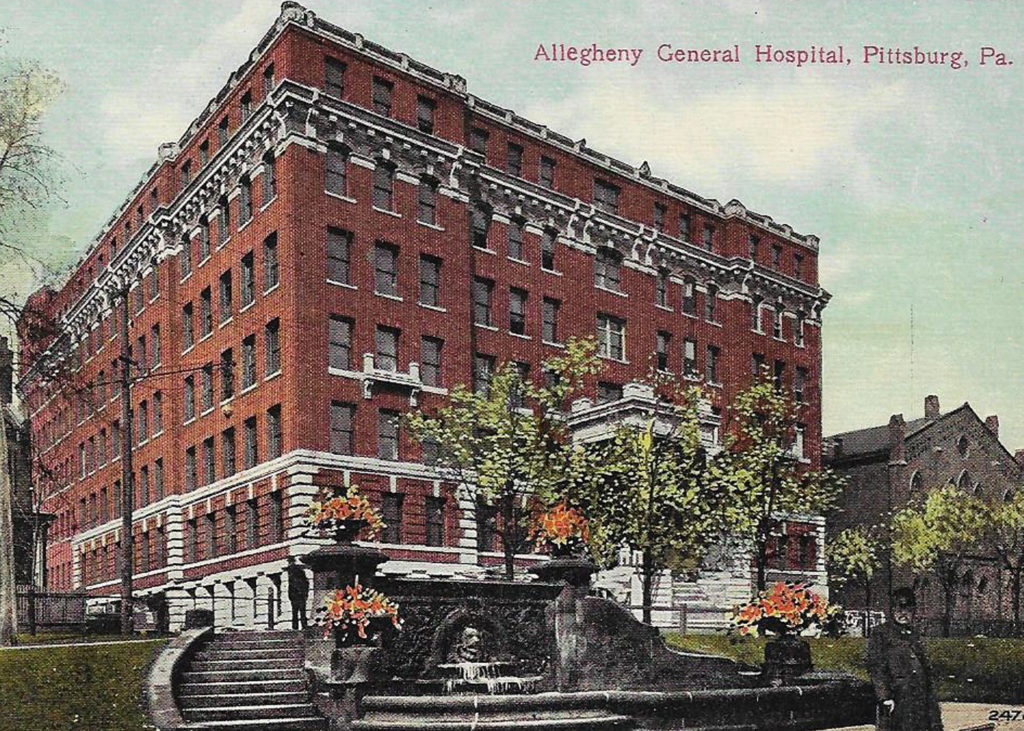 Allegheny General Hospital
Allegheny General Hospital began before that area of the North Side became part of the City of Pittsburgh. The first location of the hospital opened with 50 beds in 1885, and it was only in 1907 that Allegheny City became part of Pittsburgh. Pittsburgh had several hospitals at that time, but Allegheny City had none to serve its increasing population. In 1936, a 22-story hospital opened on the site, making it one of the first skyscraper hospitals in the nation. It is now the flagship of Allegheny Health Network.
Children's Hospital
Children's Hospital was born from a great notion. In 1887, Kirk LeMoyne, the young son of a Pittsburgh pediatrician, and some friends had an idea to raise $3,000 to endow a cot at The Western Pennsylvania Hospital dedicated to the care of an infant or child. Once those funds were raised, a local philanthropist and church worker, Jane Holmes, bequeathed $40,000 for a hospital to serve only children. But there was a stipulation: the hospital had to be built in one year. That deadline wasn't met, but her donation plus the funds raised by the "cot club" were used to purchase the land bounded by Forbes Avenue, McDevitt Place, and Ophelia Street. The 15-bed Pittsburgh Hospital for Children opened in 1890. It has grown into a first-class hospital for children. In 2009, Children's Hospital moved to a new, state-of-the-art facility in Lawrenceville.
Forbes Hospital
Forbes Hospital was formed in 1972 when Pittsburgh Hospital in East Liberty and Columbia Hospital in Wilkinsburg merged with a private clinic, the East Suburban General Hospital in Monroeville. They built a new facility on Haymaker Road in Monroeville. The new hospital opened in 1978 and was named Forbes Hospital because all the preceding hospitals were located along the old Forbes Road, the historic military path that Brigadier General John Forbes built in 1758. Forbes hospital is now part of the Allegheny Health Network.
Jefferson Hospital
Jefferson Hospital was born from two hospitals in the South Hills: Homestead and St. Joseph's, both of which were established in the early 20th Century. In 1973, the two hospitals formed South Hills Health System and eventually changed its name to Jefferson Regional Medical Center. In 2013, it became part of Allegheny Health Network and, once again, underwent a name change, becoming Jefferson Hospital.
Magee Women's Hospital
The hospital began in 1911 in a home at the corner of Forbes Avenue and Halkett Street. State Senator Christopher Magee provided for the hospital in his will and stipulated that it be named after his wife, Elizabeth. It moved in 1915 to the present location at Halkett Street. The hospital was closed in 1918 during the influenza epidemic and leased to care for stricken soldiers. It reopened in 1920, was expanded in 2011, and became part of the UPMC health system. Despite its name, the hospital does treat men as well as women.
Mercy Hospital
Mercy Hospital was Pittsburgh's first hospital. It was founded in 1843 by the Sisters of Mercy, a Catholic religious congregation from Ireland. It was located on Penn Avenue in downtown Pittsburgh. Mercy Hospital eventually moved to the uptown area of Pittsburgh. It became UPMC Mercy in 2008 and is the only remaining Catholic hospital in the area.
Montefiore Hospital
Montefiore Hospital was founded by the Hebrew Ladies Hospital Aid Society in 1908 to serve the health concerns of the city's Jewish community. It opened in the Hill District on Centre Avenue. In 1929, the hospital moved to Fifth Avenue in the city's Oakland neighborhood. In 1990, Montefiore became affiliated with the Presbyterian-University Hospital of Pittsburgh and eventually became part of the UPMC system.
Ohio Valley Hospital
Originally known as McKees Rocks Hospital and established in the 1890s, the hospital was chartered in 1906 as Ohio Valley General Hospital. A new hospital opened in 1949 on Heckel Road. In 2014, the hospital changed its name to Ohio Valley Hospital, and in 2019 Ohio Valley joined Heritage Valley Health System.
Passavant Hospital
Passavant Hospital opened in McCandless Township in 1964 to serve the growing suburban population in the North HiIls, but it had its origins many years before when the Rev. William Passavant began caring for Mexican War soldiers in 1849 on the North Side, calling it the Pittsburgh Infirmary. The hospital moved to the Hill District and changed its name in 1899. In the 1960s, a campaign to bring the hospital to the suburbs came to fruition. Today it is part of the UPMC Health System.
Presbyterian Hospital
Presbyterian Hospital was founded by Louise Lyle, the wife of a Presbyterian minister, in 1893 on the North Side. In the 1920s the University of Pittsburgh desired to create a medical center in Oakland and lured Presby to the neighborhood. The new hospital opened in 1938 with the objective of providing health care, conducting research, and providing education. The name was eventually changed to Presbyterian University Hospital and is now known as UPMC Presbyterian
Sewickley Hospital
Sewickley Valley Hospital opened in 1907 and was a true community hospital because residents of Sewickley donated land for it and raised the funds to construct it. It opened with 14 beds and has continued to grow and expand with the time. It is now part of the Heritage Valley Health System.
Shadyside Hospital
Founded in 1866 and originally known as Homeopathic Medical and Surgical Hospital and Dispensary, what is now Shadyside Hospital was once located in downtown Pittsburgh. In 1884, the hospital started the area's first nursing school. The hospital moved to Shadyside in 1910, and in 1938 it changed its name to Shadyside Hospital. It became part of UPMC in 1997.
St. Margaret
In 1889, wealthy iron manufacturer and philanthropist John H. Schoenberger bequeathed $800,000 and three acres of land on his family's summer estate in Lawrenceville to build a hospital in memory of his wife, Margaret. The hospital was dedicated in 1898 and overseen by a Protestant Episcopal Church board of trustees. The hospital remained on 46th Street in Lawrenceville for 82 years until it moved across the Allegheny River to Aspinwall in 1980. In 1997, it merged with UPMC.
West Penn Hospital
The original Western Pennsylvania Hospital was built in the Strip District on donated land from the Schenley and Denny families near Liberty Avenue and 28th Street. It opened in 1853 with the capability to care for 100 patients. During the Civil War, the hospital treated many soldiers. With the growing Pittsburgh population, West Penn needed to expand as well and moved to a new facility in Bloomfield in 1912. West Penn continued to expand and pioneer care; its well-respected Burn Unit opened in 1970. The hospital came to the rescue of the faltering Allegheny General Hospital and became part of the West Penn Allegheny Health System. In 2013, it became part of Allegheny Health Network.
By Janice Lane Palko