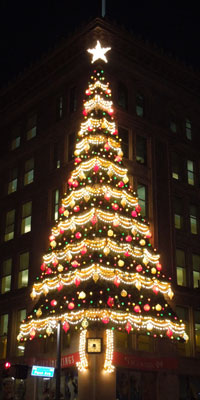 Since 1953, when the 100-foot tall Christmas tree begins to go up on the corner of the old Joseph Horne's Department store building at Penn Avenue and Stanwix Streets, Pittsburghers know that Christmas will soon be here. The tree that wraps around the corner of the seven-story building has more than 2,500 lights and more than 2,000 ornaments. It is now first illuminated as part of the city's Light Up Night festivities every holiday season.
The First Department Store in Pittsburgh
Joseph Horne Company was the first department store in Pittsburgh and was founded on February 22, 1849, by Joseph Horne, who was born in Bedford County. The grandson of Henry Horn, who served in the Continental Army, Joseph Horne came to Pittsburgh and took a job in retail. He eventually moved on to work at F. H. Eaton store, where he became a business partner. At the age of 23, Horne bought the business in 1849 and renamed it Joseph Horne Company. Most locals referred to the department store simply as Horne's. In 1879, the present building at Penn and Stanwix was built, and in 1892 Joseph Horne died. There are two bronze plaques on the building commemorating the store and can still be seen there today.
In 1907, Joseph Horne Company purchased 52 acres along Lowries Run in the North Hills. It was to provide a camp for the junior employees of the store who ranged in age from 12-14. (This was before child labor laws.) This company perk was envisioned as being a "little Switzerland" with swimming, boating and canoeing as well as camp games for the employees. Eventually, the camp fell into disuse and was sold in 1960, but not before giving the area Camp Horne Road. The camp's site is now where Avonworth Community Park is located.
When Andy Warhol was studying art at Carnegie Tech (now Carnegie Mellon University) in the 1940s, he designed window displays part-time for Horne's.
In 1972 Horne's was acquired by Associated Dry Goods, and then in 1994, Federated Department Stores acquired it and merged it with Lazarus, stripping the stores of the Horne's name.
The Horne's Christmas tree survived all the business turmoil and is still a welcome harbinger of the holiday. Today, the building at Penn and Stanwix is known as Highmark Penn Avenue Place, and the tree has been officially dubbed as the "Unity Tree." But most Pittsburghers still refer to this iconic symbol of the season as the Horne's Christmas tree.
By Janice Lane Palko