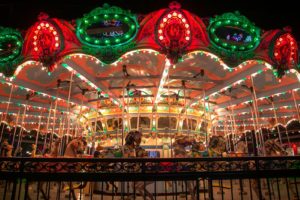 Where can you go to enjoy the spirit of the season while also getting to enjoy fun rides? Kennywood Park's Holiday Lights, of course! Now through December 30th visitors will get to see the festive side of Kennywood. The park is dazzling with nearly two million lights and the tallest decorated Christmas tree in Pennsylvania, towering at 100 feet. You can visit Santa, take in an elaborate model train display, or stop by the cozy bonfire to warm up.
This year, the park is featuring Rudolph the Red-Nosed Reindeer 4D, where guests will be immersed into the classic story of the reindeer who saved Christmas, with images, smells, and sensations that take viewers into the wintery world of Rudolph. The experience features the same stop-motion animation as the beloved original television special, with Rudolph, Hermey the Elf, and friends.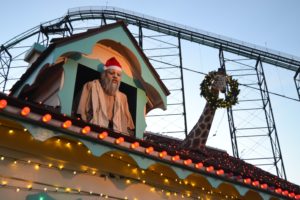 Several of the park's rides are open for families to enjoy, including the Kangaroo, Noah's Ark, Kiddieland, and Thomas Town. One special highlight is the Merry Go Round decorated in Christmas colored lights. The Wurlitzer band organ playing Christmas carols while the merry go round spins makes a trip to Kennywood during Holiday Lights even more special. For non-riders and lovers of stories, each night in the Penny Arcade there is a nightly reading of 'Twas the Night Before Christmas by a local Pittsburgh celebrity.
Be sure to visit with an appetite! It's not only the rides and lights that excite visitors, the park is also full of delicious wintry treats. Cold weather classics like hot chocolate and apple cider are available to help warm you up. There's also funnel cake, Beaver Tails, and of course the Potato Patch to satisfy that craving for French fries. For a special evening treat, Holiday Lights has a Dinner with Santa event that includes a buffet meal, a visit from Santa, and the first screenings of Rudolph the Red-Nosed Reindeer 4D.
Another special event just for Holiday Lights is the nightly Sounds of the Holidays that features local music and dance groups. If you're more into the Holiday Lights themselves, you won't want to miss the Holiday Lights Show that happens every 30 minutes around the Lagoon area. There are two different shows that feature Christmas lights that come to life in a choreographed display that matches up perfectly with favorite holiday songs. Each show lasts 10 minutes, making it a fun and easy activity for little kids to enjoy.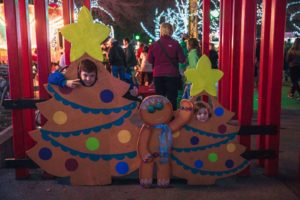 Whether you're in the Christmas spirit, or looking for a way to make your bah-humbug turn into a jingle bell, Kennywood's Holiday Lights is an event you won't want to miss.
By Bianca Labrador