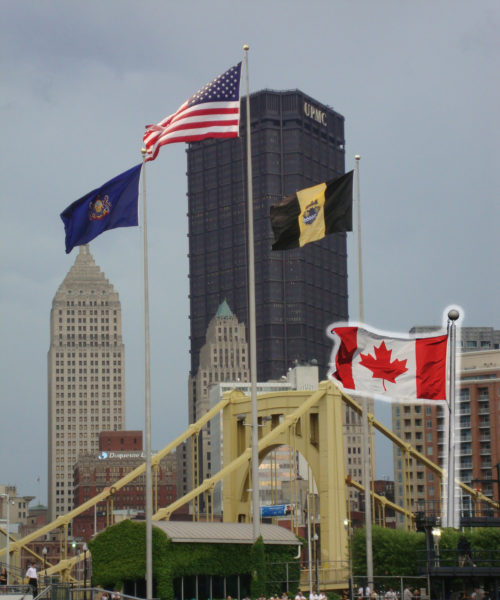 When Mr. Rogers sang, "I have always wanted to have a neighbor just like you," he most likely didn't have Canada in mind, but it would have been appropriate because you'd be hard pressed to find a better neighbor to Pittsburgh than our friends to the north.
We all know what an asset Mario Lemieux has been to our region, not only as the greatest Penguin to ever wear the team's sweater, but also as the rescuer of the franchise and a philanthropist par excellence and how his successor Sidney Crosby and a host of other Canadian hockey players have given Penguins fans many thrills on ice. But if that is all you know about our bond with our Canadian brothers and sisters, then you have been left out in the cold.
We share a common heritage, language, and many cultural aspects, but our relationship goes way beyond that. According to the Pittsburgh Regional Alliance, Canada is one of the largest foreign investors in the region and is also our area's leading trading partner. Pittsburgh exports more than $2 billion annually to Canada, and in turn we imported more than $2.9 billion in 2014 alone. More than 49 Canadian-owned companies do business here, employing upwards of 4,600 people. operating in almost every field–everything from nursing homes to energy companies.
For example, Hatch Associates Consultants, Inc. has established its U.S. headquarters in Pittsburgh. Based in Mississauga, Ontario, the employee-owned, professional services company provides a wide variety of technical and strategic services. Hatch's Pittsburgh location employs more than 350 people, and they manage projects in the mining, metals, infrastructure and energy sectors. Their clients are household names in Pittsburgh industry such as Westinghouse, U.S. Steel, and Alcoa.
The U.S. Department of Commerce's International Trade Association notes that in 2016, Canada was Pittsburgh's top foreign market with 27 percent of our area's total goods going north of the border.
For many Pittsburghers, their first venture out of the U.S. is to Canada. Niagara Falls and Toronto, two of the most popular destinations for Pittsburghers, are among the numerous destinations that are within a day's drive. In fact, much more of Canada is conveniently accessible for Pittsburghers than you may realize. Forty-five percent of the Canadian population is accessible by a two-hour flight or less from Pittsburgh.
To highlight our special relationship, in April 2014, Pop-Up Canada!, a week-long event that set up a temporary Canadian consulate in downtown Pittsburgh and that enhanced and committed to furthering the city's and Canadian relationship was held. Numerous events from Doing Business in the Canadian Oil Sands to Wine Country Ontario Wine Sampling rounded out the schedule. One of the most fun aspects of the celebration was Spot the Mountie, where a Canadian Mountie roamed Pittsburgh and residents who spotted the officer were encouraged to post selfies with the Mountie.
As our country's economy trends to be more global with each passing day, it's reassuring to know that we share the most neighborly of relationships with the nation of Canada.
By Janice Lane Palko