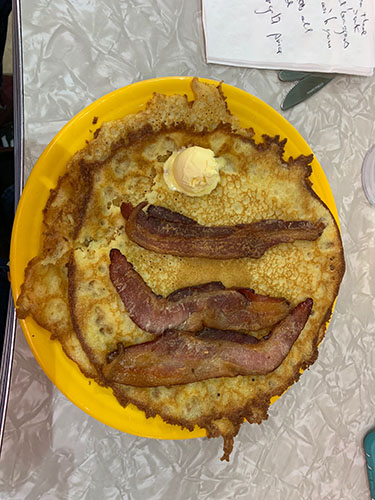 On a spring Thursday morning we found ourselves visiting a few stores in the Strip District.  It was  about eleven AM when we realized we hadn't stopped for breakfast. I suggested Pamela's.
I would not have made that suggestion on the weekends or in prime breakfast or lunch times, but at 11AM on a Thursday I was sure it was a good idea. Our two block walk up Penn Ave to 21st street began. I was surprised the restaurant was full and we had to wait a few minutes to capture a table in the back room.  Waiting a few minutes is OK. I was with a few friends standing outside this restaurant for close to an hour one Saturday morning because someone in our group was hell bent on eating at Pamela's.
It was noisy but not as noisy as I thought it could be for the amount of people occupying this relatively small space.  I guess there were around 100 people seated in the 2 areas set up for customers.  I assumed that the people who had been served were quietly enjoying their meals while those without food in front of them were making all the noise.
The diners were made up of families, couples, high school students (probably involved with some sort of field trip), and a group of young professionals that were making a video at a table at the far side of the dining area I was in. When our server delivered our coffee and water I asked what they were filming. He replied that he had a choice of finding out what they were doing or getting us our coffee and water and he hoped I appreciated his choice. I did. We thought the coffee was really good.
Kristina ordered the veggie omelet with egg whites and I went for the famous crepe-style hotcakes with bacon.
The price is perfect. If you can fill every seat you have at 11 AM on a Thursday you are not charging too much.
Portions seemed a little too big. We were really hungry when we entered this Strip District landmark, but we both left a third of our meals on the plate. I can hear my third grade teacher yelling at me because of those poor children in China.
No rush, even though the lunchtime hour crowd was standing on the sidewalk. Surprised by the plastic straws, not disappointed, just surprised. Loved the feeling that I was back in the 50's.
Hated to have to pay for parking. It ain't the 50's anymore. Hundreds of photos of people I don't know and one of President Barack Obama.
Kristina had a piece of my bacon and she said it was perfect. I thought it was a little on the crispy side. Pleasing everyone is hard. We both enjoyed our meals.  As always their famous crepe-style hotcakes with bacon was fantastic. I haven't found anything like it anywhere. I read somewhere that President Barack Obama agrees with me about that.
It is one of my go to places for taking friends and family as I'm showing off our great city. I believe it will stay one of my go to places as long I can schedule eating there at 11AM Monday through Friday.
By Tom Pollard