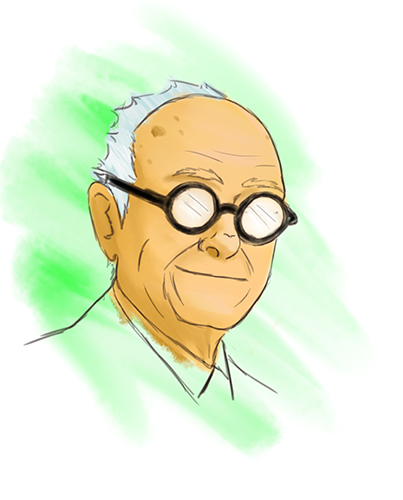 Architect Philip Johnson and his partner Burgee designed PPG Place. While undeniably a gifted architect, he was also at one time an anti-Semite and Nazi sympathizer.
Johnson was born into wealth in Cleveland on July 8, 1906, to lawyer Homer Johnson and Louisa Osborne Pope.  He was educated at the prestigious Hackley School in Tarrytown, New York  and studied at Harvard. With a fortune acquired from the ALCOA stock that was given to him by his father, Johnson left for Europe in 1927 after completing his studies. There he would meet noted German architect Mies van der Rohe. In 1930, Johnson returned to the United States taking a position in the architecture department of the Museum of Modern Art in New York City.
In the 1930s Johnson's life seemed to run off the rails. He left the Museum of Modern Art and became associated with the controversial priest Father Charles Coughlin, embracing anti-Semitism and becoming an admirer of Adolph Hitler. He attempted to start a Fascist party in the United States. Harper's cited him as one of America's leading Nazis in 1940.
By 1941, he had abandoned his political convictions and enrolled in the Harvard School of Design to pursue a career in architecture. After being vetted for his loyalties and enlisting in the Army during World War II, Johnson served stateside. Upon his discharge, he returned to the Museum of Modern Art and began to establish his architectural career. In 1949, he designed The Glass House, his own home, which is a rectangular structure with glass walls located in New Canaan, Connecticut. He went on to help design the Seagram Building in New York and formed a partnership with fellow architect John Burgee in 1967.
During his career he would design numerous buildings: The Crystal Cathedral in Garden Grove, California; the AT&T Building in New York City; and PPG Place in Pittsburgh. Eventually, Johnson and Burgee would part company. In 1978, Johnson was awarded an American Institute of Architects Gold Medal, and in 1979, he became the first recipient of the Pritzker Architecture Prize, the most prestigious international architectural award. In 1991, Johnson received the Golden Plate Award of the American Academy of Achievement.
Although his architectural work is impressive, nevertheless his flirtations with socialism, fascism and Nazism haunted his life. He died on January 25, 2005, at the age of 98. Late in his life he would express remorse for his checkered past, saying, "I have no excuse for such unbelievable stupidity. … I don't know how you expiate guilt."
By Jan Palko