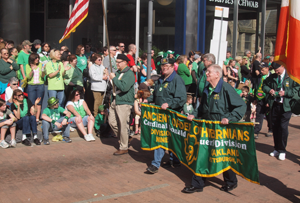 Celebrating Our Irish Heritage
March 13, 2015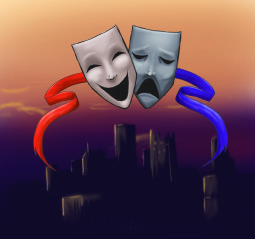 Pittsburgh's Theater Scene
March 24, 2015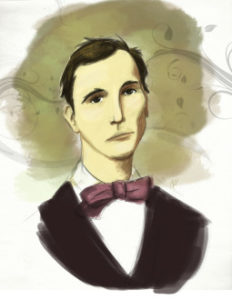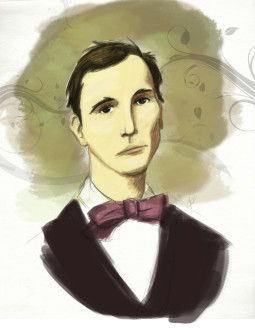 While the average person on the street may not know Foster's name today, most everyone can sing a few bars of Oh, Susannah! or The Old Folks at Home (Way Down Upon the Swanee River) even more than 150 years after their publication.
Stephen Foster was born on July 4, 1826, to William Foster and Eliza Tomlinson Foster. His father was a prosperous merchant and Pennsylvania state legislator, and his mother a descendant of Maryland plantation owners. Foster was the ninth of his parents' 10 children, arriving in the world on the 50th Anniversary of the signing of the Declaration of Independence, and the day on which two Founding Fathers, John Adams and Thomas Jefferson, died. He was born at his parents' home, White Cottage, which was situated on a hillside above the Allegheny River in Lawrenceville. Due to financial difficulties, the family was forced to sell White Cottage, and they lived in several different homes during their lifetime.
In an age before public schools, young Foster was privately tutored and educated at schools in Pittsburgh and at boarding schools such as Athens and Towanda Academies near the Susquehanna River. However, Foster's true passion was music, and it is believed that he received musical instruction from German immigrant Henry Kleber. As a teen, he and his friends liked to get together and sing. He published his first song, Open Thy Lattice Love when he was only 18. Foster enrolled at Jefferson College, his father's alma mater, which would later become Washington & Jefferson College, but he dropped out after a week.
At 20, Foster went to work as a bookkeeper in Cincinnati for his brother's steamship company. It was while he was in Cincinnati that he sold Oh, Susannah! which became a favorite of the prospectors during the California Gold Rush. Parlor songs were the mainstream music during that time, but a new art form called minstrels, where white performers wearing blackface makeup sang, danced, and performed skits, became the fashion. Minstrel shows lampooned blacks, but many feel that Foster's experience in Cincinnati shaped the way he wrote his minstrel songs. Cincinnati, in Free State Ohio, was just across the river from Kentucky, which was a slave state, and surely there Foster witnessed first-hand the scourge of slavery.
With 12 songs published in 1850, Foster returned to Pittsburgh and married Jane Denny MacDowell, the daughter of a Pittsburgh doctor. It is believed that Foster's hit, Jeannie with the Light Brown Hair, was inspired by his wife. In 1851, the couple had a daughter, Marion. He also signed a contract with the Christy Minstrels, and during the period between 1850 and 1854, Foster penned some of his most famous songs including My Old Kentucky Home and Camptown Races.
Many of Foster's songs humanized blacks and had Southern themes. In 1849, he published Nell Was a Lady, which referred to the black woman in the song as a "lady", something that had never been done before. Ironically, Foster never lived in the South and only visited the area while on a delayed honeymoon in 1852 that took him by riverboat down the Mississippi to New Orleans.
At this time, there was no recording technology, no radio, and the only way to capitalize on one's songwriting talent was to sell sheet music. Foster decided to earn his living as a songwriter. Until then, no one had ever tried to make a living as a professional songwriter. At this time, copyright laws were in their infancy, and royalties were limited. Consequently, Foster had trouble earning enough to sustain his family. The family moved to New York, which was evolving as the center of the music business in 1860, but they struggled financially. The next year, his wife left him, taking their daughter back to Pittsburgh, where Jane Foster took a job working as a telegrapher for the Pennsylvania Railroad. The following year, Foster published 17 songs and the next, 49, but his newer music never held the appeal that his previous compositions did.
Some say that Foster drank to excess, but that has been disputed. Nevertheless, Stephen Foster died in New York's Bowery on January 13, 1864. He had taken ill with a fever and spent three days in bed at the North American Hotel, where he had been living. When he tried to call for his chambermaid, he collapsed, hitting his head against a wash basin next to his bed. He was taken to Bellevue Hospital where he passed away three days later at the age of 37. He died with 38 cents in his pocket and a scrap of paper on which was written the words "dear friends and gentle hearts." His body was brought back to Pittsburgh by train for interment in Allegheny Cemetery. In March of that same year, his Beautiful Dreamer, the last song he ever wrote, was published.
Pittsburgh and the world have not forgotten Stephen Foster. Today, he is remembered on the University of Pittsburgh campus with the Stephen Foster Memorial, which houses the Stephen Foster museum and collection of manuscripts, musical compositions, various memorabilia and his piano. Three movies have been made about Foster, and in 1966, congress passed a law making January 13th Stephen Foster Memorial Day. His song My Old Kentucky Home is traditionally sung while the horses take to the track before the start of the Kentucky Derby. Even Bugs Bunny has been known to croon, "I dream of Jeanie, she's a light brown hare." Each July the Lawrenceville Historical Society and Allegheny Cemetery host the Stephen Foster Music and Heritage Festival (Doo Dah Days) during the first weekend of that month.
More than 150 years after his death, people are still familiar with Foster's compositions. That's an amazing accomplishment.