As it seems that every culture likes soup, soup may be the lingua franca (common language) of the culinary world. Pittsburgh is fortunate to have two remarkable cooks, Linzee Mihalcin and Sara Raszewski, who speak soup language better than anyone else. The women are the owners of Soup Nancys, and their business has been "piping hot" since they arrived on the scene at the Pittsburgh Public Market in 2011. In addition to their delectable soups, they serve up delicious sandwiches.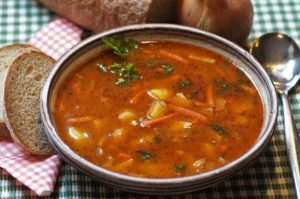 "Linzee and I both love to cook and experiment with new things in our home kitchens, but we are not formally trained. We have put in our hours in the food service industry in various positions over the years, but our careers immediately preceding Soup Nancys were real estate (Linzee) and non-profit work (Sara). I'd like to think that we've really got the hang of it by now," Sara said.
Soup Nancys' Soups
Got the hang of it, indeed, if the lines of people at the Pittsburgh Public Market waiting for their soup are any indication of how much Pittsburghers love the Soup Nancys' soups. Perhaps their secret ingredient is the passion they have for their culinary creations. "I would eat soup every day," said Sara, explaining how the Soup Nancys came to concentrate their efforts on soup. "Every culture has its own soup traditions, and we love finding out about them and testing them ourselves. One soup we've heard of, but not yet made, is a Korean Hangover Soup. It's very complicated with unusual ingredients, so I don't know if it will ever show up at the market, but that's one example. Secondly, it can be a whole meal in a bowl. It warms you up on a cold day, or a cold soup can be very refreshing on a hot one. You can slurp it and make all kinds of interesting stains on your clothes. What's not to like?"
Since opening, the Soup Nancys have made more than 150 different soups. They change the menu of three soups for each weekend's sale at the market. They don't really have a best-selling soup because it seems that whatever they are ladling out, Pittsburghers are devouring. "Generally, whenever we have Crab Bisque, that's very popular, but so are Stuffed Banana Pepper, Senegalese Peanut Soup, and Posole Rojo. There are many soups that get requested over and over again. Recently, Pumpkin & Black Bean was very popular," Sara said.
Sara doesn't have a favorite either. "Every week when we're in the kitchen tasting the final product, I think 'Wow! That is delicious!' So for this week…well, I like them all this week. A good vegetable soup, though, that's what I crave when I'm under the weather," Sara said.
Storefront Opening
Eventually, the Soup Nancys would like to open their own storefront. In addition to being at the Pittsburgh Public Market from Thursday through Saturday, they sell their soups wholesale. "You can find our soups at the Buena Vista Coffee House (North Side), Big Idea Bookstore (Bloomfield), Klavon's Ice Cream Parlor (Strip District), and our newest customer, the Bryant Street Market (Highland Park)," Sara said.
As to the origin of the name "Soup Nancys," it's a nod to the Seinfeld show's Soup Nazi, who often barked, "No soup for you." Unlike the surly Soup Nazi, the Soup Nancys have homemade soup for you! And Pittsburghers are eating it up with a big spoon!
I've visited them at the Pittsburgh Public Market a few times and have always ordered something new. Soup Nancys never disappoint.
By Tom Pollard
Unfortunately, Soup Nancys went out of business in March 2017. PopularPittsburgh misses their delicious soup and hopes to see Linzee and Sara back in business soon.