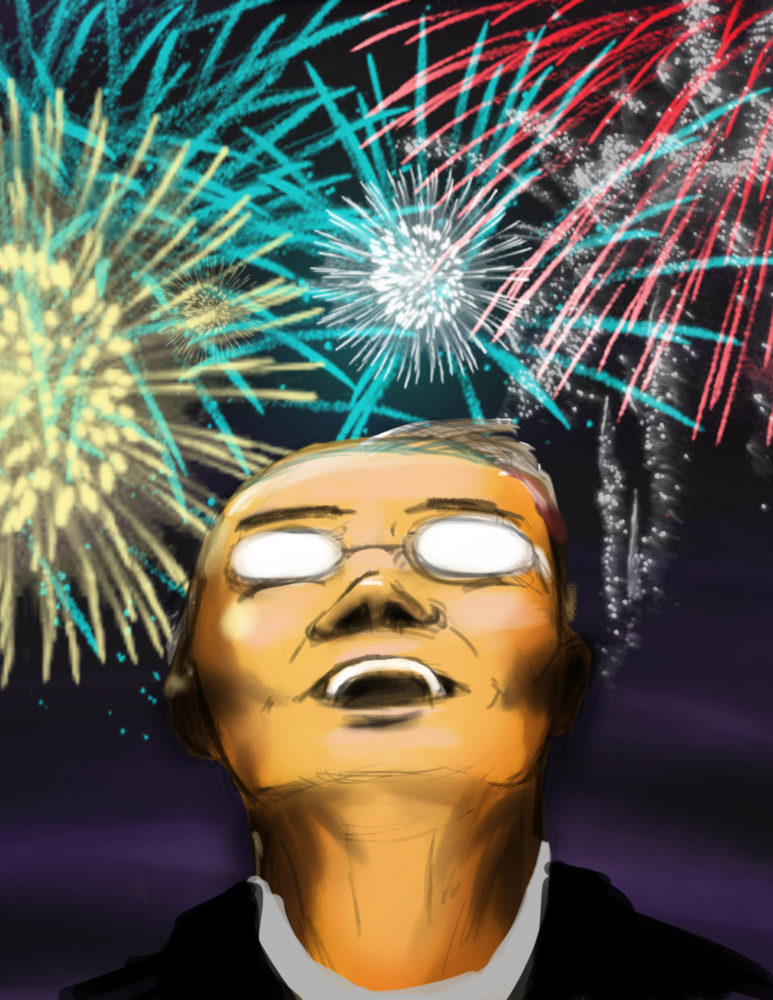 Many immigrants to the U.S. brought recipes with them from the Old Country, but Antony Zambelli was a bit different. When he came, he didn't bring recipes for his grandmother's Christmas cookies or his mother's delicious pasta; he brought his family's recipes for creating fireworks. Thank goodness he did so, otherwise our skies for the past one hundred plus years would have been a lot less colorful and our celebrations less jubilant.
In 1893, Zambelli emigrated from a village near Naples, Italy, to New Castle, Pennsylvania, when he was 16. Italians enjoy celebrating holidays and festivals with fireworks, and he brought that love of pyrotechnics with him. He found work as a laborer in the New Castle Works of Carnegie Steel and part-time employment making fireworks by hand in Fazzoni Brothers Fireworks Company, which had already been in operation in New Castle. He eventually married another Italian immigrant, Maria Tuscano, and had four sons.
In the 1940s, Fazzoni died and Zambelli and his oldest son, Joseph, acquired the company. It became a family affair when his other sons joined the business as well. In 1957, Antonio Zambelli died at the age of 79. Another son, George Zambelli Sr., a 1946 graduate of Duquesne University, assumed the management of the Fazzoni Brothers Fireworks Company and renamed it Zambelli Fireworks Manufacturing Company in 1960.
Zambelli Fireworks burst onto the scene when the company was tapped to provide the pyrotechnics for the inauguration of President John F. Kennedy in 1961. Likewise, they provided them for the inaugurations of Lyndon Johnson and Richard Nixon, establishing them as the leader in the pyrotechnics field.
In the 1970s, fireworks displays became more complicated with shows being choreographed to music, and as the nation's bicentennial approached in 1976, the popularity of pyrotechnics exploded (pardon the pun). The Zambellis became known as "The First Family of Fireworks."
Zambelli Fireworks became the hallmark of pyrotechnic shows and their displays have lit up the night sky all over the world from Russia to Oman and for special events such as the wedding of Prince Charles and Princess Diana in 1981, Pope John Paul II's visit to the United States in 1995, and the 250th Anniversary of the founding of Pittsburgh.
On Christmas Day 2003, George Zambelli Sr. died at the age of 79, and in 2007, George Zambelli Jr., an ophthalmologist, took over the reins of management of the company.
Today, that small company that Antonio Zambelli started in the late 1800s has grown to include corporate offices in Warrendale and a Southeast Regional office in Boca Raton, Florida as well as a Western Regional office in Bakersfield and Lake Tahoe, California. The company that started as the dream of a 16-year-old Italian immigrant and a recipe book for fireworks now produces approximately 2,000 displays a year.
By Janice Lane Palko