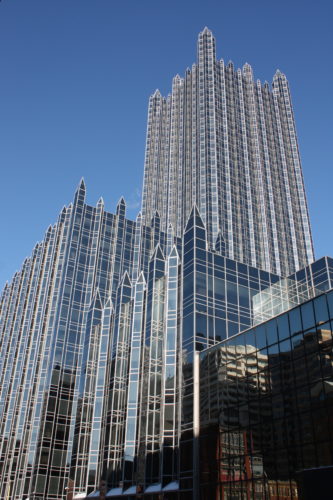 While the design harkens back to other historic structures, the buildings at PPG Place are like no others in the world. The six-building complex combines Gothic architecture with modern materials and the urban skyscraper with a fairytale castle.
PPG
PPG, founded as Pittsburgh Plate Glass Company in 1883 by Capt. John B. Ford and John Pitcairn, opened the nation's first successful plate glass factory in the United States in Creighton, Pennsylvania. Its first corporate headquarters was located on Fourth Avenue in Downtown Pittsburgh. During its more than 135 years of existence, PPG has grown, prospered, and expanded across the world.
On January 28, 1981, ground was broken for a new headquarters complex for the corporation, one that would fit its illustrious history. Noted architect Philip Johnson and partner John Burgee were tapped to design the building. The selected site was bounded by Forbes Avenue, the Boulevard of the Allies, Stanwix and Wood Streets, and adjacent to Market Square. It encompassed 5.5 acres, a three-city block area in downtown Pittsburgh not far from their first office. A model was built before the building was constructed and consisted of an 8-foot-tall, 600-pound model that was assembled in the basement of Renato Chieruzzi's home in Tarentum. The glass for the model was made at PPG's Ford City plant.
Unexpected Discovery
Construction of PPG Place did not go as expected. The new building site had, 200 years before, been located 1,600 feet from the outskirts of Fort Pitt and was originally the King's Garden and King's Orchard. Construction workers unearthed more than 10,000 artifacts from Pittsburgh's pre-Revolutionary War era. While construction took place during the day, anthropologists from the University of Pittsburgh sorted through the remains of glassware, leather goods, and medical materials found in the dirt and rubble.
The offices opened for occupancy in August 1983, and the complex was dedicated on April 11, 1984. PPG Place encompasses One PPG Place, a 635-foot, 40-story central tower; four six-story buildings; and one 14-story story building surrounding a one-acre European-style plaza. One of the most noted features is the glass-enclosed Winter Garden. The design of the castle-like complex was inspired by London's Victoria Tower, H.H. Richardson's Allegheny County Courthouse, and Charles Klauder's Cathedral of Learning on the University of Pittsburgh's campus. The complex has 231 spires and was constructed of more than 1 million square feet of PPG Solarban 550 clear reflective glass. The tower lobbies are clad in PPG Spandrelite Glass and the elevators are paneled with a laminated cracked glass mirror. The total cost of construction was $200 million.
An Iconic Pittsburgh Landmark
While most thought PPG Place to be a beautiful asset to the city and a bright spot on the face of the city's skyline when it opened, there were detractors. In a 1983 Washington Post article about PPG Place, the writer said, "To some it looks funny-ha-ha, to others funny-strange."
But since its opening more than 35 years ago, people have come to love this glittering gothic gem in Pittsburgh's skyline and how its mirrored glass reflects the best of our city back to us.
When PPG Place debuted, there was a Food Court in Two PPG and numerous shops. The food court has been closed since 2015, but there are plans to reopen it. The plaza has become an increasingly important gathering place. In warmer weather a water fountain burbles around a pink granite obelisk in the center of the plaza. In the winter, the plaza transforms into a winter wonderland as the obelisk is covered by a Christmas tree, and a skating rink is erected in the plaza. There's no more magical a winter evening than skating around the gleaming castle with snowflakes and lights reflecting in the buildings' glass. And there is no more magical, beautiful building in Pittsburgh's skyline than PPG Place.
By Janice Lane Palko