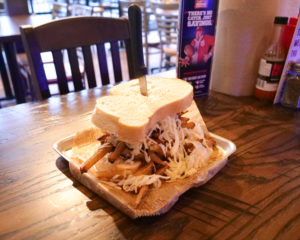 Philly has its cheesesteak. New Orleans has its po'boy. New England has its lobster roll. If Pittsburgh has a signature sandwich, it would have to be the Primanti sandwich. As is often the case, necessity is the mother of invention, and it is believed that the first sandwich was created in 1762 when the Earl of Sandwich, while playing cards, asked that his meat be placed between two slices of bread so that he need not have to step away from his game.
Like the good old Earl, in 1933, Joseph Primanti recognized that truckers driving goods in and out of The Strip District needed to eat, and he set up a small sandwich cart. Although it was the Great Depression, his sandwiches were a hit, and soon he and his brothers opened a small eatery in The Strip. But it wasn't until a few years later that the classic Primanti sandwich with the french fries on it was born.
The story goes that one winter a trucker had an abundance of potatoes, and he brought them to Primanti Bros. where Joe DiPriter, a cousin, sliced them and fried them up. They smelled so good, the customers asked for them, and Joe plopped them on the sandwich, giving birth to the Almost Famous sandwich, as it is often called. The classic sandwich includes two slices of Italian bread, grilled meat of choice, melted provolone, vinegar-based coleslaw, sliced tomatoes, and, of course, french fries.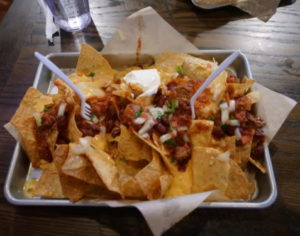 Primanti Bros. location at 18th Street in The Strip was initially open from 3 a.m. to 3 p.m. to accommodate the truck drivers and workers in the area. Today, it is open 24/7, but with its reputation for good food and late hours, it has attracted an eclectic group of diners from college students out after a night of drinking to those looking for an after-hours place to grab a bite to eat. It became a right of passage for those who were old enough to stay out late to try their first Primanti sandwich. And it became almost a cliché that a shot of a Primanti sandwich was included in every national sports broadcast from Pittsburgh.
In the 1970s, the Primanti Bros. sold the business to Jim Patrinos, who opened a second location near the University of Pittsburgh. Since then, Primanti Bros. restaurants have proliferated as acclaim for their sandwich has spread. In Western Pennsylvania, there are now 19 locations alone, and the chain has spread to parts of Maryland, Michigan, Ohio, and West Virginia. It has even crept to the central and eastern parts of the state. Who knows? With its popularity, the Primanti sandwich may just take on the Philly cheesesteak to make it the reigning sandwich in Pennsylvania.
By Janice Lane Palko