Drive—It's what Erola Grisham, who goes by Ray, does and what he possesses that makes him an outstanding entrepreneur. Capitalizing on his years of driving experience, Ray recently went into business founding ERG Enterprise, LLC, a private limousine service. He is available to provide transportation for weddings, proms, bachelor/bachelorette parties, special and corporate events.
"For three years, I drove shuttle buses at a local hospital, transporting hospital employees. I learned about people and how things are done, and I always tried to be the best. I used to play Beethoven and Mozart in the morning for the employees so that they could have a calm start to their day. At the end of the day, I'd play Smooth Jazz. People who work in hospitals are under a lot of stress, and I wanted to help them unwind," said Ray. "People loved to get on my bus."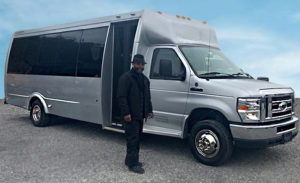 When the contractor who provided the hospital with transportation began to lay employees off, people began to panic, but Ray didn't. "I had a plan; I decided to use what I had learned to start my own business," said Ray, 50, who resides in East Liberty and has 20-seat limo bus with limousine seating including reclining captain's chairs and luxury amenities such as a television, bar, phone, and computer charging outlets.
Fully licensed and fully insured, Ray has an exemplary driving record and aims to make those engaging his services love them as much as his hospital riders did. "Every day I came in contact with 300 people, and through that I came to know how important it is to have a personal touch with people and be professional at all times," said Ray.
While he is available to provide transportation for weddings, proms, bachelor and bachelorette parties and special events, he stresses that his limo is ideal for corporate use as well. "If you have clients or colleagues coming into Pittsburgh, let me eliminate the stress of transportation. I can pick them up at the airport, take them wherever they need to go–all in comfort. It is more affordable than them renting several cars and trying to find their way around the city and locate parking. They can even use the ports on board to plug in their PCs and get some work done," said Ray, who requires a four-hour minimum at $150/hour for a booking.
Appointment hours are Monday-Friday 9 a.m. – 5 p.m. and Saturday-Sunday 10 a.m. – 1 p.m. "I'll take on that hassle of driving for you," said Ray.
To reserve your limo, call (412) 853-0191 or email EROLAG@HOTMAIL.COM or REYNOLDS.MOVERSSHAKERS.RAY@GMAIL.COM
By Janice Lane Palko