Wine is the most healthful and most hygienic of beverages. -Louis Pasteur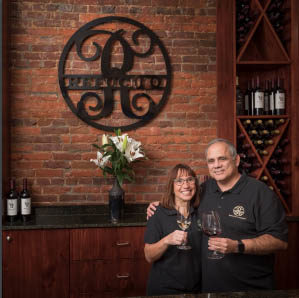 It's not certain if Dr. Juan Antonio Lora believes as Louis Pasteur that wine is the most healthful and hygienic of drinks, but he and his wife, Cecilia, believe so much in the beverage that they purchased five acres in a managed vineyard in the Mendoza province of Argentina. They sell their wines at their North Side store for Pittsburghers to enjoy.
"My husband and I are originally from the Dominican Republic. We moved to the United States in 1986 for my husband to complete his medical studies as a gastroenterologist. We moved to Pittsburgh in 1996, and he joined the gastroenterology practice of Dr. Robert De Jesus, who is now retired. My husband works for Excela Hospital in Greensburg, and we live in Export," said Cecilia who is the manager of Refucilo Winery.
Dr. Lora's interest in wine began with his making wine at home. "At first, he would go with a patient of his to collect grapes from a friend's vineyard, and later, he would buy grapes and juice in the Strip District. He entered an amateur contest once and won a medal, and that's when he got it in his head that he really would like to own a vineyard," said Cecilia.
On their 25th wedding anniversary trip to Argentina, they experienced the beautiful wine region of Mendoza, which is considered the most important wine region in Argentina, accounting for nearly two-thirds of the country's entire wine production. At that time, there were no plans for a vineyard. "One of the places we visited was the Mendoza province wine-making region. During my husband's search to find where he could make his dream come true, he discovered the concept of managed vineyards in Mendoza," said Cecilia. "In summer of 2016, we decided to visit two of them: The Vines and Casa de Uco. We chose Casa de Uco because we agreed with their philosophy in wine making, which is to have their wines be a true reflection of the terroir, so we bought five acres in Casa de Uco."
Opening Day
The Loras opened their winery on December 15, 2018, naming it Refucilo (which means lightning) after a sailboat of the same name that Dr. Lora's late uncle owned and on which he sailed.
Refucilo Wine is made in Argentina and shipped to the Loras, bottled with labels and ready to be sold at their store at 907 Western Avenue. They stock a wide variety of wines. Their whites include the Torrontes, signature white grape of Argentina, alongside Chardonnay and Sauvignon Blanc. They have a delightful Malbec Rose. Their reds include Malbec, of course, the most widely planted red grape variety in Argentina, Pinot Noir, a Blend, and Cabernet Sauvignon. Wine may be purchased by the glass, bottle, and case and range in price from $6.25 – $9 a glass; bottles $20 – $32 and cases $216 – $345.60 a case.
Tapas are available to pair with the wines, and Refucilo is available for private events.
"We have had a wonderful reception. People who come to our winery always enjoy our wines and our ambiance. We also serve tapas, small bites, to complement the wine tasting. We offer live music twice a month. During the summer and while weather permits, our customers enjoy our back patio. We don't take reservations because we're a small place. We always strive to provide the best service to our customers," said Cecilia.
Refucilo is open Wednesday & Thursday 5 – 9:30 p.m.; Friday 5-10 p.m. and Saturday 2-10 p.m. For more information, visit the website at: www.refucilo.wine.
By Janice Lane Palko