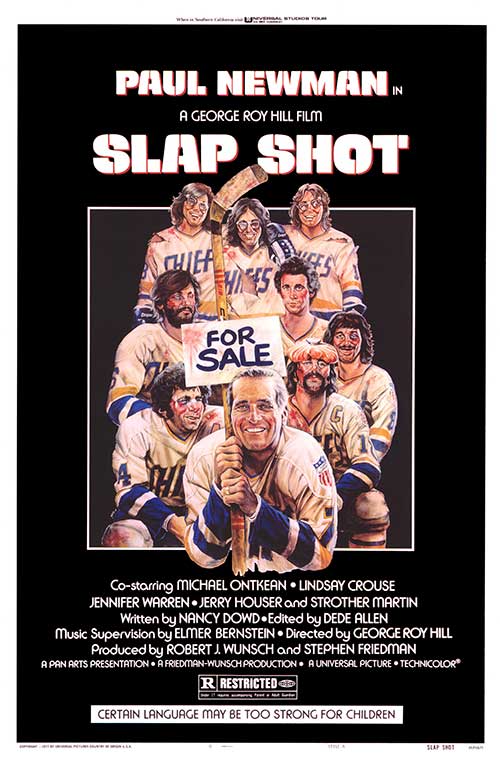 The Charleston Charlies are a second rate minor league hockey team. Player/coach Reggie Dunlap realizes that unless they start winning games and stop playing to mostly empty seats, this will be his, and the team's, last season in hockey at any level.   Winning games would seem like something within reach if it wasn't for the fact that the level of talent on the Charlies was rather low. The goal of filling seats is complicated by news that the area's only major employer is shutting down, leaving fans even more unwilling to support a losing team . Dunlap's only chance appears when the team owners, in an attempt to save some money, replace some known talent with three untested players who appear to be OK at playing hockey but excellent as fighters.  At first, coach Dunlap was disappointed to see his team stop playing real hockey for the few fans that were attending his games. His disappointment turned to delight as the team began to win and the seats were filling with enthusiastic fans. For a brief moment some fans were appalled by the freak show the hometown club was becoming. But winning cures all and the team seemed to be going in the right direction as they find themselves playing in front of standing room only crowds.  As the games became more violent, instead of trying to get things under control, coach Dunlap encouraged the mayhem. The team was scheduled to fold after the current season. But the way Dunlap saw it, if the Charlies made some money, the current ownership wouldn't call it quits.
While Regie Dunlap's coaching style might have something to do with the Charlies turning it around, the seats would have remained empty if it wasn't for upper management's effort to save some money by signing three low-cost brothers to join the organization. These brothers, the Hansons, delighted ownership with their contract and surprised everyone with dirty, goon like antics on the ice.  Ask most hockey or movie fans who Regie Dunlap is and most of the time you won't get an answer. Ask the same group if they ever heard of the Hanson Brothers and more times than not you will get a response.
With Paul Newman handling the lead and George Roy Hill (academy award winning director of "The Sting")  responsible for directing this work, it was expected to be an automatic hit.  When it was released the reviews were negative. Slap Shot was not well received.  But this sports saga from the late 70's has gained fans since its debut.  Hockey has become more popular and Paul Newman has gone from being a star to becoming a legend. The hockey portrayed in Slap Shot resembled hockey that still existed during the late 70's. Today I look at this film as so absurd that it's funny. Forty years ago I might have seen it as an attempt to glorify the violence that surrounded the sport.
The screenplay was written by the talented Nancy Dowd. Nancy's younger brother Ned supplied ideas for this movie by sharing his experiences playing minor league hockey.  Developing a story that connects violent hockey, broken relationships, and unattainable goals is all Nancy.  Slap Shot was made for the people going to theaters 40 years ago. It missed its mark. But for today's film fan this movie will deliver 2 hours of entertainment.
Two things that connect Slap Shot with the Pittsburgh area are the fact that many scenes from the movie were filmed in nearby Johnstown PA and that one of the Hanson brothers currently manages a local ice rink.
By Tom Pollard