As the snow falls steadily and begins to accumulate, you scan the television, scroll through websites, or turn your ear toward the radio, waiting.  Then there it is.  What you've been waiting for: the cancellation.  It's a snow day!  A perfectly legal excuse for changing your regular routine and enjoying one of winter's special gifts.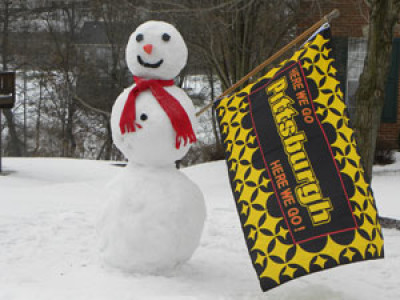 While the rich may fire up their private jets for a trip to Aspen, we ordinary folk know there is no reason to leave Pittsburgh when so much winter fun is available in our own backyard.  Almost every neighborhood has its favorite sled run.  Whether you've got a Flexible Flyer, toboggan, or a tray swiped from the cafeteria, nothing brings back the joys of childhood in winter more than an exhilarating slide down a favorite hill.
Municipal, County, and State Parks
Many of the area's municipal, county, and state parks offer a wealth of winter recreation.  Allegheny County, in which Pittsburgh is located, maintains nine parks.  In the eastern end of the county is Boyce Park, and it provides convenient, affordable skiing, snowboarding, and snow tubing for the entire family.
Hartwood Acres in Hampton, another county park, is a great place to test out those cross-country skis that Santa brought.  You could also head out to your neighborhood ball field, or take your skis for a great Nordic workout without ever getting in the car.
While not as prevalent, snowshoeing is another fun way to enjoy your snow day.  If you are not familiar with this winter sport, local outdoors clubs often offer free lessons to introduce you to this centuries-old form of winter hiking.  Unlike Alpine or Nordic skiing, snowshoeing is relatively simple to learn and poses less risk.  It is also a great form of exercise.  Just because it has snowed doesn't mean you have to give up that daily walk.  Strap on your snowshoes, and you'll soon feel like Yukon Cornelius.
Perhaps getting in touch with your inner Sidney Crosby or Michelle Kwan is more to your liking.  If so, Pittsburgh and its surrounding area has several rinks where you can try out your blades.  The Schenley Park Skating Rink, located within city limits, seems secluded from the hustle and bustle of city life but is only minutes away from downtown and the educational center of Oakland, with its numerous universities.  The Schenley Park Skating Rink hosts special events, including the Mascot Skate, when skaters take to the ice with some of the area's favorite mascots and Valentines on Ice, when couples celebrate their love by gliding and twirling on pink and red colored ice.
The county parks system boasts two outdoor skating rinks: one in North Park and the other in South Park.  Both rinks offer free, beginner skating lessons and even an ice show where student show off what they've learned.  Both locations offer numerous sessions including special ones for families.  And if you are a senior and you just can't get enough ice time, seniors citizens can purchase an inexpensive season pass.  Like the Schenley rink, both the North and South Park rinks have a Sweetheart Couples Skate for Valentine's Day, when two skate for the price of one.
For those who desire a more natural setting, Moraine State Park in neighboring Butler County maintains an ice skating area at the Pleasant Valley Day Use Area on Lake Arthur.  Moraine also offers cross-country skiing for varying skill levels.  Twenty six miles of snowmobiling trails, ice boating, and ice fishing are also available.
North Park Lake is now in the process of being drained and deepened, and when it is returned to its original depth, it will once again provide a nearby venue for ice fishing within Allegheny County.
Seven Springs, Hidden Valley, Blue Knob, and Mystic Mountain
Looking for a challenge on the slopes? Within several hours driving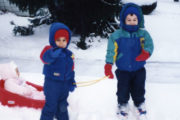 distance, you can "schuss" down some delightful runs. Seven Springs Mountain Resort, located in Pennsylvania's Laurel Mountains, is the state's largest ski resort. It is approximately a one hour drive from Pittsburgh, and in addition to skiing, snowboarding, and snow tubing, there is indoor fun too. The lodge offers bowling and miniature golf as well as a spa.
Also in the Laurel Mountains is Hidden Valley Resort, the fifth largest ski resort in the state. Hidden Valley recently added an outdoor skating rink to its array of winter activities.
Blue Knob All Season Resort in nearby Claysburg, Pennsylvania, is the highest skiable mountain in the state.
Mystic Mountain Ski Resort at Nemacolin Woodlands opened in 1995 and has downhill runs and cross-country trails as well as snowboarding, snow tubing, and snowshoeing.  If you've always wanted to yell, "Mush, you huskies!" or get a sense of what running the Iditarod is like, Mystic Mountain can fulfill your dream.  Dog sledding at Nemacolin is an experience that won't soon be forgotten.
Whether you choose to hit the slopes on one of the area's mountains, strap on the blades for a glide across the ice, drill a hole in the ice to catch that one that got away in summer, drive a team of dogs through the frosty powder, choose to make a snow man on your own front lawn, or grab your sled and navigate the nearest hill–enjoy the chance to play! Remember, snow days don't happen every day and this fun will be gone come spring.