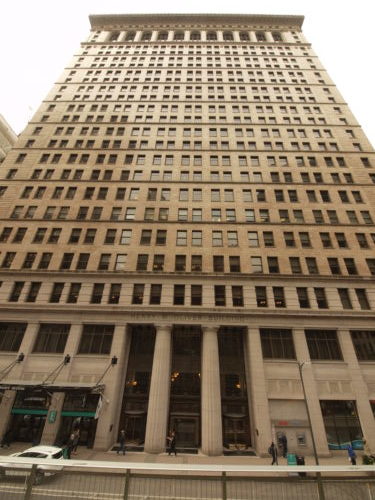 At a height of 25 stories, the Henry W. Oliver building at 535 Smithfield Street is not the tallest building in downtown Pittsburgh.  Nor is it the oldest building in the city, but with its neoclassical style, impressive stone columns, and grand lobby, it would be difficult to find a more beautiful one in the city. Designed by renowned architect Daniel Burnham, who also designed Union Station in Washington, D.C. and the Flatiron Building in New York City, the Henry W. Oliver Building debuted in Pittsburgh's skyline in 1910.
Henry W. Oliver died in 1904 and wanted the building to be constructed as part of his will. Like many other industrialists of that time, Oliver was a self-made man. Born in Northern Ireland in 1840, he came to Pittsburgh with his family in 1842. He took his first job at 13 working as a messenger boy for the National Telegraph Company. After serving in the Civil War, he and two others, William J. Lewis and John Phillips, formed a partnership in 1863 as Lewis, Oliver & Phillips, manufacturing nuts and bolts.
In 1868, Oliver's two brothers joined the company and became one of the largest manufacturers of iron specialty products. The company incorporated as Oliver Iron and Steel Company in 1888 and worked with Carnegie Steel. Henry Oliver was also instrumental in bringing new railroads routes to the area and making the Ohio River navigable year-round. He also became one of the largest property holders in downtown Pittsburgh.
The Oliver Building cost $3.5 million to construct, which would be $97.6 million today. With three separate interconnected wings, from an aerial view the building looks like the capital letter "E." Although its proper street address is Smithfield Street, it is bounded by Sixth and Oliver Avenues and overlooks Mellon Square Park. It is next door to Trinity Episcopal Cathedral and First Presbyterian Church. Before it was Oliver Avenue, the street was known as L'Allée de la Vierge, or the Alley of the Virgin in English, reflecting our French heritage and that Oliver Avenue was where the defenders of Fort Duquesne were buried. There is a commemorative plaque at Oliver and Wood Streets memorializing this.
Over the more than 100 years since the Oliver Building opened, it is home to various tenants including Meyer, Unkovic and Scott LLP and Northwest Savings Bank. Today, in addition to being an office building it houses a 228-room Embassy Suites Hotel.
The Oliver Building was designated a historical landmark in 1974, seventy years after Henry W. Oliver died. He is buried in a stone mausoleum in Allegheny Cemetery, but the grandest tribute to him is the building in Downtown Pittsburgh where his name is carved in stone above the main entrance.
By Janice Lane Palko