Tucked away off Woodland Drive near Chatham University, a wonderfully eclectic residence remains one of Pittsburgh's crown jewels of unorthodox architecture. The Abrams House, as it is affectionately called, is the work of Pritzker Architecture Prize-Winner Robert Venturi and Denise Scott Brown. The house oozes of postmodern style and is a testament to the curated, quirky style of late owner Betty Abrams. And while this beloved home has become an icon for local architecture, the residency's new owner has decided to demolish the Abrams house. This destruction has caused quite a stir in the art community, but raises bigger concerns for Pittsburgh as a whole. The ever increasing technological and cultural surge of our city makes for a wonderfully youthful rebirth for the city, but will Pittsburgh have room for its historical and quirky past?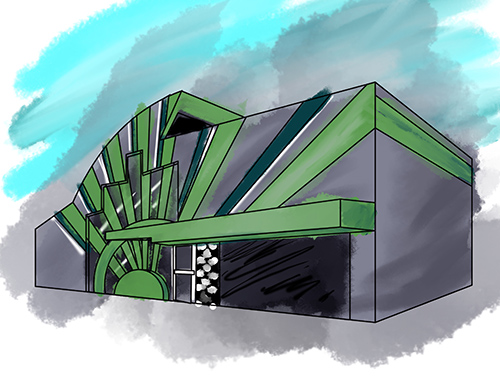 The now deteriorating Abrams house is still showing off its odd design, with a sweeping crescent roof that eventually converges with its flat profile and a fantastically crafted clerestory window that provides light to a living space with a 20ft ceiling. However the now-gutted interior, was once furnished with mod and minimalist furniture of all different hues. The house was a canvas for bright greens, blues, reds, and yellows–making it a living, breathing art piece. Interestingly enough, the living room was lucky enough to house a genuine Lichtenstein painting that served as a huge inspiration for the style of the house.
But what sets apart this architectural masterpiece from a quirky counterpart such as Randyland or the ever-historical Frick Mansion? It seems that the desire to preserve this house (or lack thereof) is the direct result of monetary dispute. Before her death, Mrs. Abrams originally planned for the house to be given over to the Pittsburgh History and Landmarks Foundation (PHLF) with the intent of securing its preservation and providing annuity to the Abrams' two daughters after the house sold. Unfortunately, a deal could not be made that would secure enough annuity and the daughters sold the house without the promise of its preservation to William and Patricia Snyder. The Snyder's decision to demolish the house was soon met with outrage from the artist community.
So the question regarding Pittsburgh's care for saving its history while welcoming progressive change is answered with one of hope. The Pittsburgh History and Landmark Foundation has appealed to the History Review Commission (HRC) to work towards preserving the home for generations to come. Because of its roots to Venturi and Brown, as well as its postmodern history, the Abrams House meets many criteria to be considered of historic value.
All in all, the conflict for preserving the old while embracing the new will eventually come to a head as this issue is taken to City Council for a vote. Until then, Pittsburgh must remember its past and what makes our Steel City worth saving.
By Leah Segal