Get ready for one of Pittsburgh's most supernatural events with Wizard World! Featuring a star-studded panel and celebrity appearances, Wizard World is  a once-in-a-lifetime experience that Pittsburghers of all ages will enjoy.
The lineup features actors from a wide variety of cinematic works including Zachary Levi from Shazam, Marvelous Mrs. Maisel, and Thor: The Dark World, Teddy Sears from CW's The Flash and American Horror Story, as well as Leslie-Ann Brandt of Lucifer, Gotham, and Chuck.
Guests can expect a schedule filled with the top names in science & fantasy fiction in the arenas of television, movies, merchandise, games, toys, books, and so much more! The three day admission includes (1) FREE Zachary Levi Photo Op, FREE autographs with Teddy Sears, Drew Powell, Lesley-Ann Brandt, Dichen Lachman, and Mark Jackson. This ticket also  includes a FREE Walking Dead #1 Variant Comic Book, a uniquely exclusive Wizard World Lithograph and a FREE Photo Op with a professional photographer to capture those incredible moments with family and friends.
Wizard Word is sure to be an event that fulfills everyone's fantasy! From connecting with stars from the big screen, witnessing comic book characters come to life, and exploring all the wonderful activeness, your inner hero is sure to shine.
And the best part of all? Popular Pittsburgh has its own special discount code so that everyone gets a super hero deal! When you use the code POPPITT20, you receive %20 off admission. So buy your ticket and start planning your squad's awesome outfit!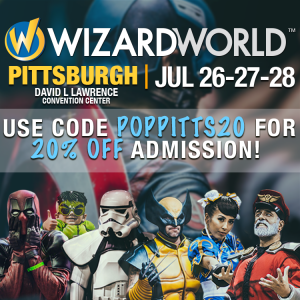 *The 5 FREE Autographs are only redeemable on the included Exclusive Lithograph.
*All photo credit belongs to Wizard World and is not the property of Popular Pittsburgh