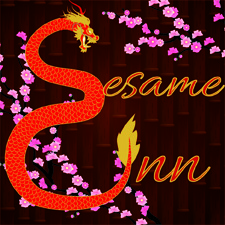 Sesame Inn
September 16, 2016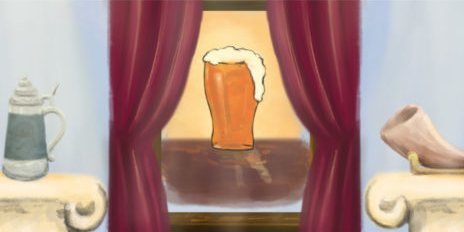 Beer Museum on Tap for Pittsburgh
October 21, 2016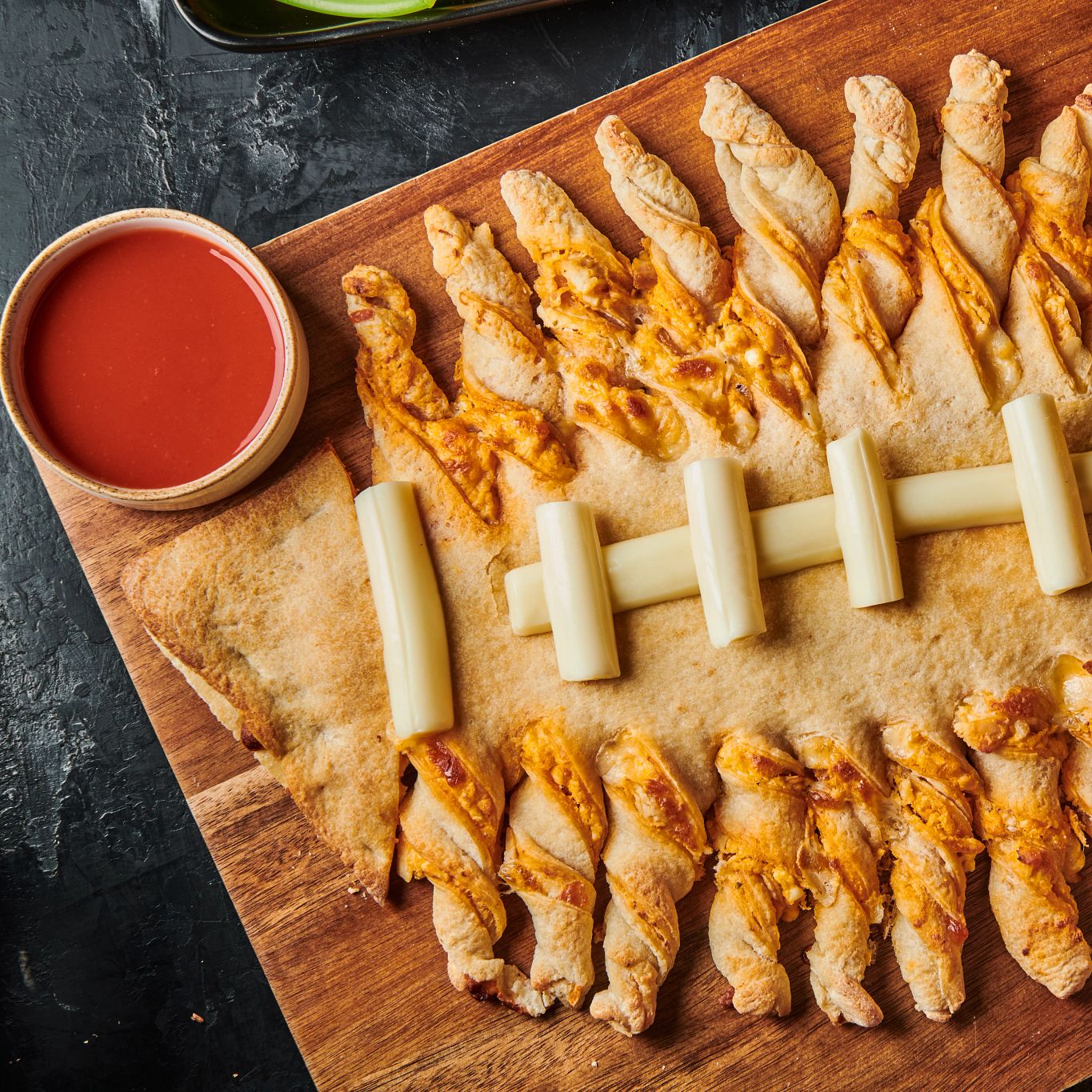 Buffalo Chicken Dip Football Breadsticks
It's pizza crust twirled with buffalo chicken dip – need we elaborate? Cheesy, bready, and loaded with the kicked-up flavor and heat of Frank's® RedHot Original Cayenne Pepper Sauce, this easy-to-make appetizer is going to be a hit for any Steelers watch party. Thanks to Frank's RedHot for submitting this recipe!
1 package (8 ounces) cream cheese, softened
1/2 cup Frank's RedHot® Original Cayenne Pepper Hot Sauce
1/2 cup ranch dressing
1/2 cup crumbled blue cheese
1/2 cup grated Parmesan cheese (optional)
2 cups shredded cooked chicken (for easy prep, use rotisserie chicken)
1 cup shredded mozzarella cheese
2 cans (13.8 ounces each) refrigerated pizza crust dough
2 tablespoons melted butter
3 sticks mozzarella string cheese (optional)
1. PREHEAT oven to 400°F. Mix cream cheese, RedHot® Sauce, ranch dressing, blue cheese crumbles and Parmesan in large bowl until well blended. Stir in shredded chicken. Set aside.
2. LINE 15x10x1-inch pan with parchment paper. Sprinkle lightly with flour; set aside. Unroll each pizza crust onto lightly floured surface. Stretch each crust into large rectangle. Trim ends to create 2 large football shapes. Place 1 football on prepared pan, reshaping and stretching, as needed.
3. SPOON buffalo chicken dip evenly over dough on pan, leaving about 1/2-inch border around edges. Sprinkle evenly with mozzarella cheese. Carefully place second football shaped dough over top, pressing edges to seal.
4. USE a pizza cutter or sharp knife to make 10 cuts down each side, working from center of football to edge, leaving about 1 inch intact down the center of the football. Pinch end of each section and twist 2 times to create twisted breadsticks. Brush with melted butter.
5. BAKE 20 to 25 minutes or until golden brown. Meanwhile, cut one string cheese stick in half lengthwise into 2 strips to create stripes at ends of football shape. Cut a second cheese stick in half lengthwise, then cut each half into 5 sections for the laces. Cut remaining cheese stick in half lengthwise for center lace. Arrange string cheese on top of the football. Return to warm oven for about 3 minutes to set, if desired, before serving.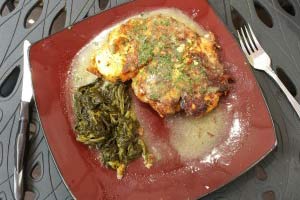 Chicken Francese
3 eggs
2 tablespoons granulated garlic
1 tablespoons dried parsley
1/2 teaspoon salt
3/4 cup Parmesan cheese
4 chicken breasts
flour for dredging
oil for frying
Thank you to Shirley Finelli for providing this delicious recipe!
Preheat oven to 350 F. Combine eggs, garlic, parsley, salt and cheese.  Beat together until smooth.  Dredge each chicken breast in flour, dip in batter to coat both sides.  Saute in hot oil for approximately 3 to 4 minutes on each side. Finish cooking in oven until the temperature of chicken breast reaches 165 F.
1 tablespoons vegetable oil
1 1/2 teaspoon chicken base (bouillon)
2 tablespoons flour
1 cup Moscato
2 tablespoons dried parsley
1 cup water
1 tablespoons lemon juice
1/2 teaspoons black pepper
1/4 teaspoons salt
1/2 teaspoons granulated garlic
Saute garlic in oil. Add chicken base and flour and sauté. Whisk in wine and water. Add granulated garlic, pepper, and lemon juice. Bring to a boil and simmer for five minutes.  Cool and add parsley. Pour over chicken breasts.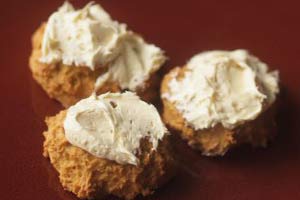 Pumpkin Cookies with Icing
2 1/2 cups all-purpose flour
1 teaspoon baking soda
1 teaspoon baking powder
1 teaspoon ground cinnamon
1/2 teaspoon ground nutmeg
1/2 teaspoon salt
1 1/2 cups sugar
1/2 cups of unsalted butter
1 cup pureed pumpkin (not pie mix)
1 large egg
1 teaspoon vanilla extract
optional: vanilla icing
Preheat oven to 350°F.  Grease baking sheets.
Mix flour, baking soda, baking powder, cinnamon, nutmeg and salt .
Beat sugar and butter until well blended. Then add pumpkin, egg and vanilla extract until smooth.
Gradually beat in flour mixture.
Drop rounded teaspoons onto prepared baking sheets.
Bake for 15 to 18 minutes, or until edges are firm.
Cool on wire racks.
When cool, add icing if desired. They take a little work but they usually taste so much better than the ones you'll pick up at the super market.
This recipe makes approximately 5 to 6 dozen cookies. From Libby's website.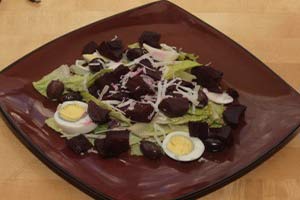 Roasted Beet Salad with Goat Cheese
Lettuce
Fresh Beets
Goat Cheese
Hard-boiled Eggs
Klamata Olives
Salt
Pepper
Olive Oil and Vinegar
Clean medium sized beets and coat with olive oil. Wrap in aluminum foil. Place on a baking sheet in a 350°F oven for about 75 minutes.  You will know the beets are done when a pairing knife can easily go thru a beet. When cool enough to handle, slice off leaf end. Push skin off using thumbs. If skin doesn't strip away easily, the beets probably need more time in the oven.  The roasted beets can be stored in an airtight container in a refrigerator for several days. Start with a bed of lettuce. Top with wedges or slices of the roasted beats. Add the hardboiled egg and olives. Use your favorite grater to add the goat cheese to your dish. Salt, pepper and dress to taste. As a starting point, plan on using one medium size beat and one hardboiled egg per person. Everything else is to added to taste. Makes a great, healthy side dish or a main course.
This is one of my favorite salads. The flavors delivered from roasting the beets is fantastic.  I stay away from the beets in cans or jars.  It's easy to roast the beets although peeling this vegetable can be a little tricky. ~Diane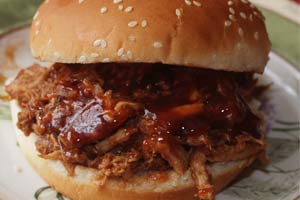 Perfect Pulled Pork
2 to 3 lb pork tenderloin, thawed
1 large onion, sliced thin
1/2 cup chicken broth
1/2 bottle (10 to 14 oz) BBQ Sauce of your choosing
Salt & Pepper to taste
OPTIONAL: Garlic powder to taste (about 2 tbs.)
Pour chicken broth into crock pot.  Score pork on top & bottom with knife.  Sprinkle salt, pepper & garlic powder on all sides of the pork. Layer half of onion on bottom of crock pot.  Place pork on top of onions.  Add the other half of onions on top of the pork. Turn crock pot to HIGH.  Let cook for about 6 to 7 hours, turning occasionally. Pork is done cooking once no pink color remains.  Meat will literally just fall apart. Drain pork and place back into crock pot.  Shred the pork.  Most folks use 2 forks, some use a knife and a fork.  Choose your own preference. Stir in BBQ sauce.  Serve either by itself or on a hearty roll/bun! VOILA! ENJOY!
Our Perfect Pulled Pork recipe is great because it is low on preparation but high on flavor. Made in the crockpot, it is perfect for busy days or tailgate parties.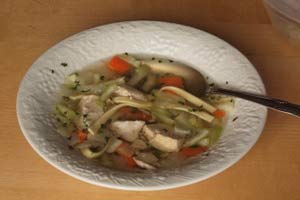 Chicken Noodle Soup
12 cups (96 oz) chicken stock
2 skinless, boneless whole chicken breast (about 1 lb)
2 medium yellow onions, diced
4 thinly sliced carrots
4 thinly sliced celery stalks
4 oz dried thin egg noodles
6 tablespoons chopped fresh flat leaf parsley
salt and pepper to taste
Bring stock to a simmer. Add the chicken breast and simmer until no hint of pink remains (it should take about 8 to 10 minutes).  Remove chicken from stock and place on a cutting board for a few minutes to rest. Add onions, carrots and celery to the simmering stock.  Simmer until the vegetables have softened slightly (about 10 minutes). While the vegetables are simmering, cut the chicken into 1" cubes. Add the noodles, 4 tablespoons of parsley, and the cubed chicken. Simmer about 3 minutes, until the noodles are tender.   Salt and pepper to taste. Sprinkle remaining parsley on soup when serving.
Makes 8 servings
Nothing says "comfort food" more than chicken noodle soup. It makes you feel better when you are sick and serve as a main meal or accompaniment.